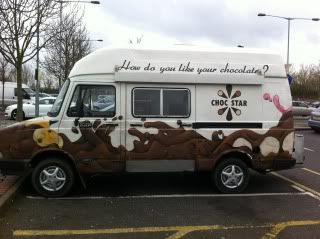 Uh-oh...it's that time...
2012 began where 2011 had ended - The Junction Underground in Plymouth. During 2011, our beloved Junction as we knew it had been taken back by the brewery and the live venue stylings more or less removed. Some of the remaining staff (notably Rich "spandex trousers with matching amp" Pearce) decided to move the venue underneath the Dog & Duck over the road, and the Junction Underground was born. We played there in November (gig diary coming soon...honest!), treating a modest crowd to complete renditions of two Maiden albums - as has become custom for two-night stands - Powerslave and Seventh Son of a Seventh Son. Both were well-received, the band had a great time with the locals, and while we were onsite we arranged the next dates for February. Which came upon us with horrifying speed, and in a flash it was time to learn all the songs from the albums chosen for the delectation of our south-westerly friends.
I hit the rails at 12-ish, heading for the NW6 locale of our newest member, the eminent Mr Steve "Plymouth is just an illusion" Harristopolis. After last week's rehearsals, there were very few nerves about the upcoming shows from my part, although I could easily put myself in the shoes of our Greek newcomer. My own first gig had been at JB's in Dudley, performing as Manic "not Panic" Gers, which had been something of a baptism of fire. While the Underground was considerably smaller than JB's, a room chock full of punters is still a room chock full of punters, and I'm sure 'Arry-opolis was bricking it nevertheless.
At the end of the line (Bakerloo, that is) I came across Nicko "wrong'un" McBrain Jnr, who had arrived a mere few minutes before your humble narrator. Very soon afterwards, Arry's wagon rolled up and we were "on our way", as the song says. (Tenuous?)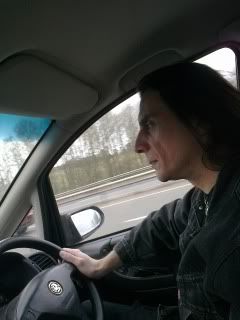 'Arry at the wheel.
The journey was uneventful, apart from it being a bugger to get out of London (no surprise there then) and the last 20 miles or so of M4 moving about as fast as an arthritic snail. Once on the M5 we were free and clear, although Plymouth never seemed to get any closer! Perhaps that had something to do with my grasp of the sat-nav 'Arry had borrowed from a friend for the occasion. Perhaps Plymouth really was just a strange illusion. At any rate, we turned up at the venue an hour late to find all the gear humped in and set up. Worse things happen at sea!
I grabbed myself a quick pint of the black stuff, said hello to Jess "sick to death of Bristol Airport Parkway" Tilley and bounded onstage to check me gear and get going with a lengthy soundcheck. We had the good graces of three engineers, who did their very best to beat the PA into shape for us while finding the perfect monitor levels for Bruce "a prize pillock" Dugginson, who was on fine form indeed as we belted through a few of the night's tunes which hadn't been touched the week before. Adrian "this morning, my arse is mostly made of chocolate blancmange" Swift ran into a spot of bother with the fuse in the back of his amplifier, which did look quite impressively blown (utterly, utterly blackened inside the glass!). Thankfully, our Mister Swift is ever the professional, and carries a box of spare fuses with him. Such a professional, he's got these things even without realising he's brought them with him! The train of thought went something like this: "Ah, they're in my little purple box." -"Ah, I left my little purple box at home." - "What's that sat over there on the stage?" - "Ah, it's my little purple box."
Soundcheck done, Duggers and I had a quick chat about what time to start the imminent Journeymen segment. As with everything else in Hi-On land, we're a bit fired up about The Journeymen at present, and are looking forward to bringing the rest of the band in on the fun while introducing some new songs. We ran two of these new songs just prior to going onstage, and were excited to open the year in a nice relaxed way with some good friends in the crowd. With another pint of Arthur's finest in hand, I joined Duggers onstage at 9:15pm and we set the good ship in motion with a short acoustic set.
Journeymen set-list

Tears of The Dragon

Wasted Years

Infinite Dreams

Journeyman

Received with rapturous applause, and a venue starting to buzz with excitement for the upcoming show, we headed backstage to get ready for the main event. My beloved wig, "Audrey in Spring Honey" had been lovingly washed that very morning, and smelt somewhat less 'orrible than it had previously. Donning my Piece of Mind album cover t-shirt, leather waistcoat and jeans, I stood back and waited for the intro tape to roll. Doctor, Doctor. Tick, tock. Boom. Caught Somewhere In Time. Bang on.
Friday night set-list
Caught Somewhere In Time

Rainmaker

The Prisoner

Coming Home

Where Eagles Dare

Revelations

Flight Of Icarus

Die With Your Boots On

The Trooper

Still Life

Quest For Fire

Sun And Steel

To Tame A Land

22 Acacia Avenue

Phantom Of The Opera

Iron Maiden
---
Wildest Dreams
Holy Smoke
Running Free
I haven't felt that good on stage in years. The whole gig was absolutely mesmerising; from the dawning realisation of just how good our new bass player was, the roar of the crowd when Duggers introduced me just before my bluesy solo in "Coming Home", and the even more tremendous reception that Piece of Mind got, not to mention realising half-way through performing that album just how much fun it is to play when you get to do the Dave Murray bits!. I laughed my arse off all the way through "Quest For Fire", as it really is Maiden at their cheesy worst and not a song I ever thought I'd be playing in this band. Yet, here we were, learning how dinosaurs and man were around at the same time and having a chuckle while we were at it.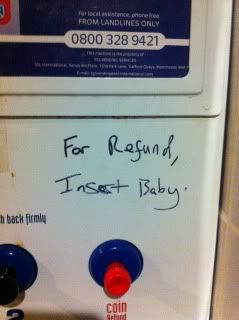 For my part, I played my socks off all night, only stumbling on the eponymous main set closer. During "Phantom..." I had thought to myself, "I'm playing really well tonight! Wouldn't it be funny if I forgot how to play 'Iron Maiden'". Then, of course, I promptly forgot how to play "Iron Maiden"! We were without Eddie "blood, sweets and beers" the 'Ead this weekend, as he was busy being metal somewhere else. Not to worry though, as we were ably assisted onstage by none other than Plymouth's very own Little Eddie! (I'd include a picture, but I fear if I start putting pictures of young lads on my blog I might find myself on 'List 99' - look for him on the Facebook!).

Returning to the stage for the encore, our intrepid frontman and drummer decided amongst themselves to start off "Wildest Dreams" before Swifty had even picked up his guitar, which was highly amusing. I fear "Holy Smoke" baffled the crowd a bit, but it's a 'reet laugh to play, and "Running Free' rounded things off nicely.
We hung around for a bevvy or two with the locals, before realising just how shattered we all were and piled into our transport. "Follow the signs for bed", said 'Arry. He wasn't wrong. Zzz.
------------------------------------
Saturday began with Saturday already nearly half-over, having had something of a lazy morning. We took our time performing ablutions and such like, which was nice given the usual rush to get off home or get to the next gig. It's quite handy playing two nights in the same place!
When it was time for some grub, we piled into the 'Arry-mobile and set off. We had been invited to lunch at Nicko Jnr's Mum's place up the road. Or, to put it more truthfully, up lots of roads, round lots of corners, up a few hills, past a few cows, causing a few vans to reverse out of our way and wondering where the bloody hell we were.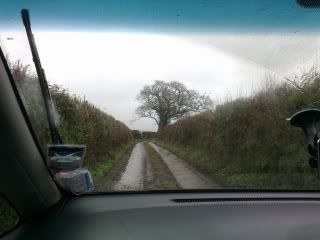 "So they plowed through forests and swamps of danger..."
We safely arrived in what could have easily been a postcard photograph. Cornwall is an immensely beautiful bit of our green and pleasant land, and despite the drizzle ("the Cornish summer", as Chef Seb put it) the clean, fresh air and prospect of a relaxing afternoon was just the ticket. As promised spaghetti and meatballs were served up, much to the delight of yours truly who hadn't really enjoyed his breakfast Pringles all that much. Also as promised, it was then time to take a wander over the road to the (very) nearby Carpenter's Arms for a pint or three of our favourite local ale, the marvellous Tribute!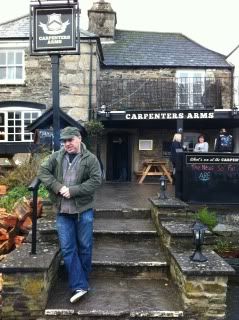 Duggers models the pub...but can you spot Hurry?
After a few delicious ales it was, altogether too soon, time to head back to the venue and run through a few songs which hadn't quite stuck from last week's rehearsals. Rock In Rio is a nice chunky setlist, with some slightly tricky numbers to get your fingers round. There's nothing overtly technical, per se, although there are a few songs which have lots of very similar sound bits played in a funny order, so concentration was needed from all parties. Unfortunately the monitors had taken a waspie since the gig last night, and it was quite some time (and several interrupted songs) before Duggers had got the levels he needed out of them. We got there in the end though, and after the long soundcheck and lovely afternoon I took a short wander through the streets of Plymouth to get some alone time and gather my thoughts. I amazingly stumbled on a guitar shop, which turned out to be not just a very handy short walk from the venue, but the very shop I purchased a Les Paul from a few years ago over t'internet! Always handy to know where these things are when you're playing a gig - we're always looking to buy something Swift has left at home!
Just before returning to the venue I stopped off at the old Junction for a pint, out of curiousity for what had happened to the place. I had been under the impression that it had stopped live music altogether, but this appeared not to be the case. The stage had been moved back to where it was the first time we played there in early 2010, and a band had set up ready to go. Unfortunately there were just about 5 punters sat around a table, and all the atmosphere had been sucked out of the place. What a shame that was - this time last year the place was heaving with Maiden fans. C'est la vie. Back to the venue then, where I ran into Swifty who had just been to the Co-op to stock up on Stella for a late-night Travelodge party! "Not a bad idea," thought I, and promptly bought meself a bottle of vino collapso to share with Duggers on our return to the sleepy place. This I secreted in the venue cellar, where I discovered local lads Sleaze getting ready to go onstage and support us with a set of glam rock à la carte.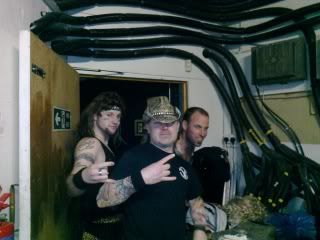 Saturday support from Sleaze...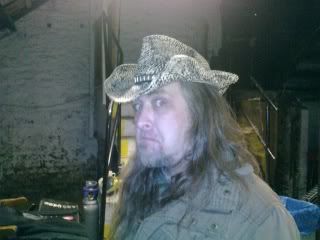 ...who Swift was, apparently, about to audition for!
Sleaze powered their way through Crüe, Leppard and Bon Jovi while we watched from the big screens. In a flash it was time to wig up and take on Rock In Rio. I had been looking forward to this for some time; I got into Maiden in 2000, just around the time that "Brave New World" came out, and the "Metal 2000" show at Earls Court (on the day of my GCSE Physics exam!) was a defining moment in my musical trajectory. I adored that night, and every time I saw them since. The setlist, then, held a special place in my heart as it contained some of the very first "new" Maiden songs I'd ever heard and the entire set of my first Maiden gig (plus a cheeky extra!). Arthur's Farewell blared (no, nothing to do with Guinness!) and we were on.
Saturday night set-list
The Wicker Man

Ghost of the Navigator

Brave New World

Wrathchild

2 Minutes to Midnight

Blood Brothers

Sign of the Cross

The Mercenary

The Trooper

Dream of Mirrors

The Clansman

The Evil That Men Do

Fear of the Dark

Iron Maiden

---
The Number Of The Beast
Hallowed Be Thy Name

Sanctuary

Run To The Hills
My immediate reaction having come offstage was "Wow, that was a LONG show". It felt like I'd done a marathon in fancy dress while giving a fatter man a piggy back. In terms of song length it should only have been about 10 minutes longer than the night before, but there are so many epics in there it felt a good deal longer than that. I've always wanted to play "Ghost of the Navigator", and enjoyed it immensely. "Blood Brothers" brought legitimate tears to my eyes in the mid-section, and "Sign of the Cross' went down a flippin' storm, much to my surprise. The rest of the set was just as good, and the house seemed even more heaving than the previous evening. Plymouth really knows how to kick botty. Joined again by Little Eddie, we rounded off the show with the blistering encore and said our goodbyes. Packing the gear down and heading off rather sharp-ish was the order of the day, as, in Nicko's words, to say we were tired would be an understatement. However, as is often the way in this band, we stayed around chatting for a short while anyway. Everyone who comes to see us in Plymouth (and indeed the south west in general) is a friendly face by now, and the venue staff are all splendid folk. It's a real pleasure to hang about with this lot.

The late-night Travelodge party didn't really kick off, with Duggers turning in early and myself flagging badly by the end of the first mug of red. To bed it was, and in the morning it was up and off. A similarly uneventful journey home, arriving in time for tea. Luvverly.
Thank you so much Plymouth, can't wait to see you again! Thanks also to Amy, Darryl and Plukie for snapping lots of photos and making us look good, and to the kind chap from Bournemouth Uni who is making a film about us (name to be inserted when I remember what it was!). Special thanks to the newly appointed Hi-On Maiden Street Team (you know who you are) for helping us out with promotion and such - let's make 2012 kick the arse of every other year there ever was!
Until next time, UP THE 'KIN IRONS!
Even when he gets the bed, he still wants the "Manic cushion"...

Luv,
Dave "I've got wig in my mouth!" Hurry