Every Other Ones recently hit Delta Studios in Chartham, Kent to lay down tracks for their debut E.P., tentatively titled "EP1" (imaginative or what?!).
Sharpey and I had worked very hard to ensure we each had our parts rehearsed up and ready to go, with regular practices throughout November leading up to the recording session. As any followers of
our Twitter feed
will attest, these rehearsals usually result in a lot of wine being drunk and a lot of other people's songs being played! We always have a lot of fun, but only after we've set out what we intended to do. By the end of the last session, which incidentally was the night before recording was to commence, Sharpey and I knew each other's parts back-to-front and were confident of getting good performances.
The next morning, the Mini de Sharpe picked me up from my humble abode and we shot down the A2 towards Chartham.
Just after we pulled up outside the studios, the owner turned up to let us in. Said owner, a lovely chap by the name of Julian, made us a cup of tea while we chatted about the old days. Sharpey and his previous outfit (Half Inch Heroes) had recorded here many moons ago and had fond memories of the experience. I was looking forward to getting going! The rest of the crew duly turned up, comprising Goc, Sasha and Wolf of Kit Kaboodle Company alongside the wise Mr David Riley who had come along to document the weekend on a trusty bit of viddy-oh gear. After Julian had showed audio boffin Wolf the ropes, we settled in and EOO got going! First order of business, destroy the toilet. Eww.
Pro Tools...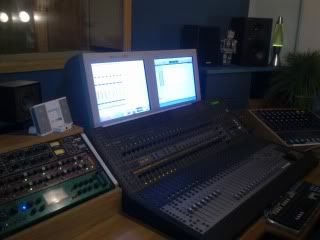 We started off with "Same Old", which meant breaking out my splendid Takamine 12-string. I accomplished the tune in what I thought was one take, garnering praise for my metronomic performance. It turned out that I'd missed an entire section. Whoops! Back in the box with me. Sharpey then added his parts, and it was decided we'd leave vocals for Sunday. On to "I Should Have Stayed At Home". I was a little bit concerned about this one as there are some time-signature changes and neither Wolf nor I had any idea how to programme the click-track to match my vision! I bit the bullet and managed to nail it in one take, despite the strong beat being in the wrong place for a little while. "GET IN!", I proclaimed. "Get out!", Sharpey retorted. Sharpey had not one but two guitar parts to lay down for this, and magnificent they are too. "Again & Again" was next, and both guitar parts were laid down without too much fuss. I even had a go at laying down an acoustic bass track!
After that it was time for the other Kaboodles to record some stuff (including the ridiculously talented David Mumford who turned up for a short spell in the afternoon), so I took in a little bit of engineering and quite a bit of drinking! We packed up and headed off around ten, with Mr Sharpe kindly dropping me back home.
Barely hours later, the Mini was back outside Harrison Towers and I was piled in. While shopping for rations in the local Tesco I received word from Sasha that Goc had been afflicted with a migraine and wouldn't be driving him and Wolf to the studio. Sharpey to the rescue! We took a detour to West Kingsdown to pile the smelly boys into the car and shoot back to the studio, arriving only about half an hour later than intended.
We set up the vocal booth and got on with the bit I was dreading. I'm more than confident laying down guitar tracks, but I've never been that enamored with my singing voice which isn't exactly what you'd call consistent! Despite my doubts, I managed to get through with a maximum of two takes. During the "aaah" section in "I Should Have Stayed At Home" I threw in a bit of enunciation that caused quite a lot of giggling from the control room - the name Alan Partridge was mentioned more than once. Needless to say that take got swiftly deleted - or did it?!
David Sharpe is an awesome vocalist, and as such his was a very no-nonsense approach. In, out, done. Win. He even nailed a big Freddie Mercury arrangement with no more than one take per part. What a hero! I can't wait for everyone to hear this.
Once all that work was done and the other Kaboodles had sorted some of their stuff, it was time for some jams. We chocked out a cracking set of tunes that afternoon / evening, including an Every Other Ones 'Live in the Studio' set. As neither myself nor Sharpey were particularly happy with the version of "Again & Again" we'd recorded the previous day it was decided that the version from this live set would go on the EP. Also from those sessions is a new song entitled "You Won't", which can be heard on
our MySpace page
.
All in all, a cracking weekend. Big thanks to Goc and Sasha for organising the session, to Wolf for engineering, to Julian for the use of the studio, and to all our friends and family for their continued inspiration, love and support.
Yours,
Chrissy H: Fat guitarist!